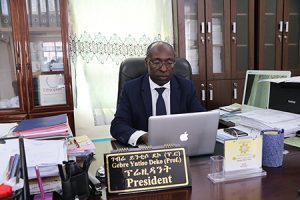 Jinka University (JKU) is found in the South Nations, Nationalities, and Peoples Region (SNNPR), South Omo Zone, 750 km away from Addis Ababa, the capital of Ethiopia. It is one of the 11 fourth generation universities established in Ethiopia as part of the Second Growth and Transformation Plan (GTP II) and the Fifth Education Sector Development Program (ESDP V). Although the official establishment of JKU was announced in 2015, the actual operation began in 2017.
Early on, as a new university, JKU encountered multiple challenges emanating from a shortage of inputs for service provision. However, with the participation of local communities, the support from private citizens, the determination of the university community, and through the introduction of some creative solutions, the university managed to establish a constructive atmosphere and ensure a smooth teaching-learning process during the first two years. For example, the donation of a new car by Dr. Dereje Lagasse (donor) and the President's offer to bring and use his private car, addressed the crippling shortage of vehicles for university officials. With support obtained from the local community of South Omo Zone, JKU transported new students from Arba Minch town to Jinka town free of charge: a total of 80 buses were mobilized to transport students from Arba Minch in the years 2017, 2018 and 2019. During the bus trips, members of the various ethnic groups of South Omo Zone residing alongside the asphalt road to Jinka and the residents of Jinka town came to the roadside in large numbers. They welcomed the new students by singing, dancing, clapping hands, waiving green leaves and flowers, supplying bottled water, and uttering 'welcome' in their respective languages.
Every year, a couple of days after the students' arrival on campus, welcome ceremonies were organized during which religious and community leaders, government officials, invited guests, and the university community gathered in the cafeteria of Jinka University to meet and greet the students. The warm hospitality and the ceremonial gesture contributed to the building of a positive image of South Omo Zone and strengthening a peaceful and friendly relationship between the university staff, officials, local communities and the students. The students, who were initially received as honoured guests on their arrival, soon accepted as members of the community. Hence, they often spend their free time in the nearby villages, Jinka town and places of worship, friendly interacting with the local people.
JKU started to use the Integrated Student Management and Information System (ISMIS) in 2017, which has recently been replaced by the Student Record System (SRS). The university opted for the application of these systems to conduct placement, registration and grade reporting processes with maximum efficiency. Likewise, by introducing a digital library system called Scientific Earth Revolution (SRE), JKU addressed the shortage of textbooks and reference materials in hard copies through providing soft copies and E-Books. Jinka University runs a cattle fattening, apiculture, and horticulture program, and preparation is underway to launch poultry production, the fattening of small ruminants, start with fishery, a dairy farm, and fodder production. These activities were launched with three major objectives: to equip students with practical knowledge, to demonstrate improved production practices to the nearby agricultural and agro-pastoral communities, and to generate income for the university.
As part of the information communication and technology (ICT) infrastructure development initiative, JKU's Information and Communication Technology Directorate has built broadband internet with fiber optics cable connectivity. The major buildings on campus that are being used by students, instructors, and administrative workers now can provide wired and wireless internet connections. The Directorate also established a computer laboratory with 152 desktops, which are accessible to instructors and students for practical education.
Research fosters professional excellence and the delivery of quality education and training. Hence, Jinka University has been encouraging instructors to undertake basic and applied research to further the frontiers of knowledge, foster professional excellence, provide quality education, and contribute to development goals. In this regard, based on a preliminary assessment carried out in 2018 in South Omo Zone JKU identified 14 thematic research areas, and openly announced funding opportunities for research proposals on a competitive basis. Of the total 35 proposals submitted by groups of instructors, 30 proposals passed the rigorous review process and successfully qualified for the funding. In 2018/19, a total of 128 faculty researchers (113 male and 15 female) participated in the 30 projects. More instructors are expected to compete and qualify for the 2019/20 research funds.
Undertaking research is one thing and dissemination the results of the research is yet another. With this in mind, Jinka University has created an academic environment that offers opportunities for dissemination and publication. In January 2018, JKU hosted an international conference on "Legal Pluralism in Ethiopia and Beyond" the results of which are being published as an edited volume in Germany.  In January 2019, the university organized a local workshop titled "Multidisciplinary Research on Knowledge for Change" with the intention to create an opportunity for instructors to present their work (MA/MSc theses), solicit comments, and refine their papers for publication. This initiative led to the publication of proceedings authored by 18 instructors belonging to 10 of the 14 departments at JKU. In June 2019, a national conference on "Indigenous Knowledge for Sustainable Development" was organized and participants from 12 universities in Ethiopia presented 21 papers.
The community service activities of Jinka University started with the establishment of computer centers for 19 secondary schools and one primary school with the intention to improve the quality of education and enhance the computer skills of teachers and students. Thanks to the support obtained from Camara Education Ethiopia (NGO) and Engineer Henok Tekeste (donor), JKU acquired a total of 700 refurbished computers to establish IT centers in the 20 schools. Moreover, the university has, among others, been engaged in planting trees, cleaning streets, building homes for the elderly, organizing a cultural festival for the 16 ethnic groups in South Omo Zone, giving different short-term trainings for civil servants, and giving tutorial classes for high school students.
The establishment of JKU in South Omo Zone entails numerous benefits in meeting the demands of communities for knowledge acquisition, training services, business opportunity, and social development at large. Besides the regular students assigned by the relevant federal institution, JKU admitted some eligible local candidates (former public servants) to enhance their capacities to serve the public. Moreover, weekend classes have been started to offer degree programs to private applicants residing in Jinka town and those working for the Omo Sugar Project. The university obviously created employment opportunities for numerous people. It also created a huge market opportunity for agricultural and industrial products, which can be exploited by local producers and suppliers. To sum up, in accordance with the three missions of university (teaching-learning, research, and community services), JKU is striving to improve the capacity of the local community to contribute to national development goals.
Prof. Gebre Yntiso Deko
President, Jinka University
+251966493645
Jinka University, Ethiopia