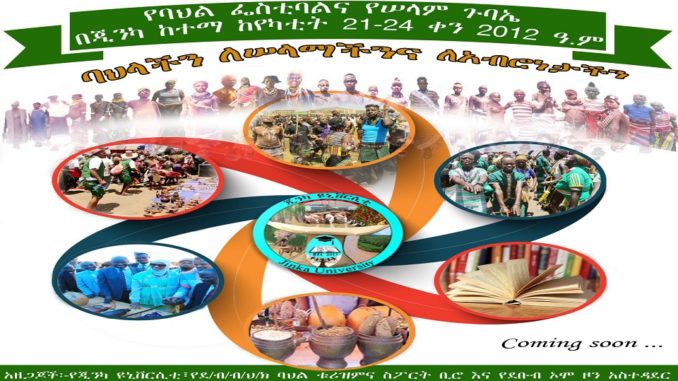 የባህል ፌስቲባልና የሰላም ጉባኤ በጂንካ ከተማ
****
የጂንካ ዩኒቨርሲቲ ከደቡብ ክልል ባህል ቱሪዝምና ስፖርት ቢሮ እንዲሁም ከደቡብ ኦሞ ዞን አስተዳደር ጋር በመተባበር "ባህላችን ለሰላማችንና ለአብሮነታችን" በሚል መሪ ቃል ከየካቲት 21 አስከ 24 ቀን 2012 ዓ.ም ባሉት ቀናት የሰላም ጉባኤና የባህል ፌስቲቫል ያካሂዳል፡፡ የዘንድሮው ፌስቲቫል በክልል ደረጃ 5ኛ ዙር ሲሆን ለጂንካ ዩኒቨርሲቲ ሁለተኛ ነው። ጉባኤው የካቲት 21 ላይ ይካሄድና ፌስቲባሉ የካቲት 22 ቀን ይጀምራል። በጉባኤው ላይ ከነባር ዩኒቨርሲቲዎች የተጋበዙ ዕውቅ ምሁራን ጽሑፍ ያቀርባሉ። በፌስቲባሉ ላይ የተለያዩ ብሔረስቦች ሙዚቃ፣ ምግብና ዕደጥበባት የሚቀርቡ ሲሆን ልዩ ልዩ ትርዕቶችም ይታያሉ። የተለያዩ ዩኒቨርሲቲዎችም የስራ ውጤቶቻቸውን በኤግዝብሽን ያቀርባሉ።
የዝግጅቱ ዋና ዓላማ የክልሉ ብሔሮች፣ ብሔረሰቦችና ህዝቦችን ባህላዊ ልዩ ልዩ ዕሴቶት ማስተዋወቅና ማበልፀግ፣ የሕዝቦችን መቀራረብ፣ መተሳሰብና መተባበርን ማጎልበት፣ ለዘመናት የቆዩትን የሰላም ዕሴቶችና የአብሮነት ባህል ማጠናከር፣ በዘርፉ የተሰማሩ ግለሰቦች፣ የሙያ ማህበራት፣ የአገልግሎት ሰጪ ተቋማትና የህብረተሰቡን ተጠቀሚነት ለማሳደግ ምቹ ሁኔታ መፍጠር፣ በዘርፉ ጥናትና ምርምር የሚያካሄዱ ግለሰቦችና ተቋማት እንዲጠቀሙና ተጨማሪ ግብዓት እንዲያገኙ ማድረግ፣ እንዲሁም የክልሉን፣ የደቡብ ኦሞ ዞንንና የጂንካ ከተማን መልካም ገጽታ መገንባት ይገኙበታል።
በስቲቫሉ ወቅት ከመላው ኢትዮጵያ የሚጋበዙ እንግዶች፣ የፌዴራልና የክልል ከፍተኛ አመራሮች እንዲሁም የውጭ አገር እንግዶችን ጨምሮ ከ36 ሺህ በላይ የሚሆኑ ተሳታፊዎች ይኖራሉ ተብሎ ይጠበቃል።
ባህላችን ለሰላማችንና ለአብሮነታችን!!
There will a cultural festival and a peace symposium in Jinka town on 1-4 March 2020. The event is organized by Jinka University, SNNPR's Culture, Tourism and Sports Bureau, and South Omo Zone Administration. Prominent scholars will present papers for the symposium to be held on the 1st of March. During the festival, the various ethnic groups in Southern Ethiopia will present their music, dance, food, and artifacts. Different universities will also display their products.