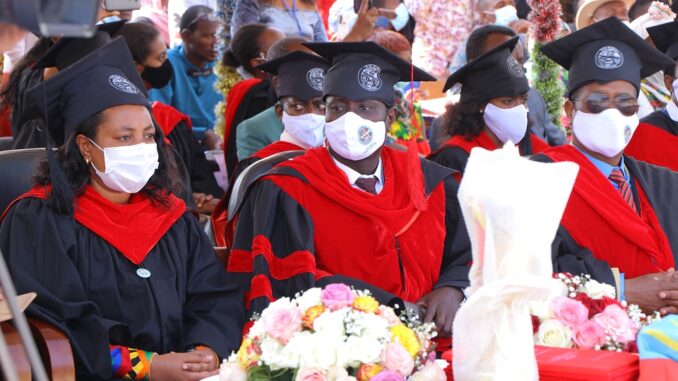 የጂንካ ዩኒቨርሲቲ የ2012/13 ተማሪዎቹን አስመረቀ።
ጥር 15/05/2013 የጂንካ ዩኒቨርሲቲ በተለያዩ የትምህርት መስኮች በመደበኛ መርሀግብር በባችለር ዲግሪ ያሰለጠናቸው ተማሪዎችን አስመረቀ። ዩኒቨርስቲው በአራት ኮሌጆች በአጠቃላይ 854 ተማሪዎችን ያስመረቀ ሲሆን ከእነዚህም ውስጥ ሶስት መቶ ሀምሳ ሶስቱ ሴቶች ናቸው። በእለቱም የከተማ ልማትና ኮንስትራክሽን ሚኒስቴር ሚኒስትር ዴኢታና የጂንካ ዩኒቨርሲቲ ስራ አመራር ቦርድ ሰብሳቢ ወይዘሮ መሰረት መስቀሌና ሌሎች የክልልና የዞን ባለስልጣናት ተገኝተዋል።
Jan 23/2021 Jinka university held first round graduation ceremony. 854 students have been graduated from four colleges of the university by bachelor degree. Among the total graduates, 353 students are females.