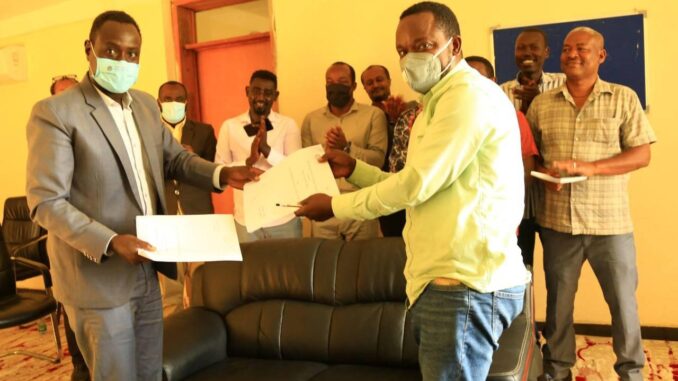 Jinka University signs two Memorandum of Understanding today on 29th of September 2021.
JKU has signed two different MoUs with Jinka Agricultural Research Center(JARC) and Jinka Polytechnic College.
JARC which is under Southern Agricultural Research Institute established in 2004 E.C. and Jinka Polytechnic College has been awarded on the 1st Ethiopian Higher Education, Research, and Industry Linkage (HEART) Covention of 2021.
All JKU, JPC and JARC are mandated to generate and adapt agricultural technologies, to conduct pre-extension demonstration of proven technologies and to duplicate early new prototypic technologies into the community.
Hence, the MoU is signed to work jointly with each other to speed up the dissemination and diffusion of productive technologies for the community.
Kusse Gudishe (PhD),president of JKU, expressed that great things that help to change the livelihood of the community are expected from these organizations(JKU, JARC & JPTC), and he noted the commitment of JKU to do works at large by collaborating such organizations.
Mr. Muhaba Sultan (managing director) from Jinka Agricultural Research Center, and Mr Kassahun(Dean) from Jinka Polytechnic College signed the agreement with JKU president.