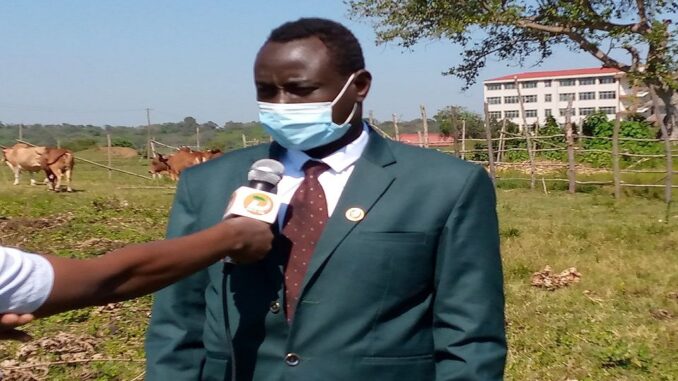 Dr. Kusse Gudishe, President of the Jinka University said, "We have donated Birr 1 million to the Ethiopian defense forces, which has played a crucial role in saving our lives. But it will not be the end.
The university sent the cash to the zonal fundraising committee, which was supposed to be on the side of the defense, but the zonal fundraiser was handed over by the head of the zonal finance and economics department to the zonal fundraising committee. He said that they have amassed wealth and that today they will deliver the anthrax donated by Jinka University to the army.
Related news we are very happy that 9 anchors have been given to our army for the survival of the country and we call on other universities to continue their support for this sacred cause.
የጂንካ ዩኒቨርሲቲ በጥሬ ገንዘብና በዓይነት ለመከላኪያ ሰራዊታችን ያደረገውን ድጋፍ አጠናክሮ አንደሚቀጥል አስታወቀ
መማር ማሰተማሩም ይሁን ሌሎች ማናቸዉም ልማታዊ ተግባራት በአግባቡ ሊከናወኑ የሚችሉት የሀገር ህልውና ከአደጋ በመከላከልና ሰላም ሰናረጋግጥ ብቻ ነው ያሉት የዩኒቨርሲቲው ፕሬዚዳንት ዶ/ር ኩሴ ጉዲሼ ህይወቱን ሰውቶ ድል እንድናደርግ ወሳኝ ሚና ለተጫወተው መከላኪያ ሰራዊታችን ከዩኒቨርሲቲያችን ብር 1 ሚሊዬን በጥሬ ገንዘብና 9 ቅልብ ሰነጋዎች በድጋፍ ማበርከታችን ያስደሰተን ሲሆን ይህም የመጀመሪያ እንጂ የመጨረሻ አይሆንም ብለዋል፡፡
ዩኒቨርስቲው ለመከላኪያ ሰራዊታችን ያበረከተዉን ከጎንህ ነን የሚያስብል ድጋፍ ጥሬ ገንዘቡን በባንክ አካወንት የላከ ሲሆን ቅልብ ሰንጋዎቹ ግን ለዞኑ ሀብት አሰባሳቢ ኮሚቴ አስረክቧል፡፡የአይነት ድጋፉን ከዩኒቨርሲቲው የተረከቡት ደግሞ የዞኑ የፋይናንስና ኢኮኖሚ መምሪያ ኃላፊና የመከላኪኪ ሰራዊቱ ሀብት አሰባሳቢ ኮሚቴ ም/ሰብሳቢ አቶ ምህረቱ አሰፋ በበኩላቸው ከዞኑ ለዚሁ ዓላማ በርካታ ሀብት አንዳሰባሰቡ ገልፀው ዛሬ ላይ ደግሞ የጂንካ ዩኒቨርሲቲ በከፍተኛ ተነሳሽነት ያስረከባቸውን ሰንጋዎች ለሰራዊቱ እንደሚያደርሱ በሰጡት አስተያየት ገልጸውልናል፡፡
በተያያዘ ዜና ዩኒቨርሲቲው ለሀገር መከላኪያ ሰራዊቱ ካበረከተው ድጋፍ በተጨማሪ ለገበታ ለሀገር ግንባታ ፕሮጄክት የሚውል ግማሽ ሚሊዬን ብር እንዲሁም በተለያዩ የተፈጠሮና ሰው ሰራሽ አደጋዎች ለተጎዱ ወገኖች ድጋፍ የሚውል የግማሽ ሚሊዬን ብር ድጋፍ በባንከ አካወንት መላኩን የገለጹት የዩኒቨርሲቲው የቢዝነስ ልማት ም/ፕሬዚዳንት ወ/ሮ ነፃነት ይርጉ በራሳቸው ዘርፍ ከደለቡ ምርጥ 9 ሰንጋዎች ለሀገር ህልውና ለተዋደቀው ሰራዊታችን መስጠታችን በእጅጉ ያስደሰተን ሲሆን ሌሎችም የኒቨርሲቲዎች ለዚሁ የተቀደሰ ዓላማ ድጋፋቸዉን አጠናክረው እንዲቀጥሉ ጥሪ አቅርበዋል፡፡