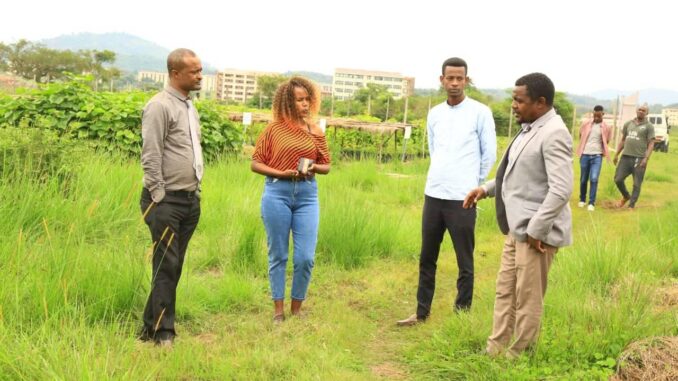 ጂንካ ዩኒቨርሲቲ ለጂንካ ፖሊ ቴክኒክ ኮሌጅ የችግኝ ስጦታ አበረከተ።
******ሀምሌ 14/2013******
ጂንካ ዩኒቨርሲቲ ከ1300 በላይ የአቮካዶ ችግኞችን በዛሬው ዕለት ለጂንካ ፖሊ ቴክኒክ ኮሌጅ አስረክቧል።
የዩኒቨርሲቲው የምርምርና ማህበረሰብ አገልግሎት ም/ፕሬዚደንት ፅ/ቤት ከግብርናና ተፈጥሮ ሀብት ኮሌጅ ጋር በመተባበር የችግኝ ማፍያ ጣቢያ ማቋቋሙ ይታወቃል።
ዛሬ የተደረገው የችግኝ አበርክቶም በዚሁ የችግኝ ማፍያ ጣቢያ የተዘጋጁ የአቮካዶ ችግኞችን "ኑ ኢትዮጵያን እናልብሳት" የሚለውን መርህ እውን ለማድረግ ከሚደረጉ እንቅስቃሴዎች አንዱ ነው ሲሉ የዩኒቨርስቲው የምርምርና ማህበረሰብ አገልግሎት ም/ፕሬዚደንት ኤልያስ አለሙ (ዶ/ር) ገልፀዋል።
Jinka university lends seedlings to Jinka Poly – Technique college.
*******July 21/2021******
Jinka University gives above 1300 avocado seedlings to Jinka Poly -Technique college today.
It is known that JKU office of Research and Community Service vice president organized Nersery site in collaboration with college of Agriculture and Natural Resource.
The seedlings that has been given today to the Poly technique college also are prepared at the University's Nursery site.
As of Elyas Alemu (PhD), vice president for Research and Community Services expression, it is among the activities that JKU is going to implement the motto called "ኑ ኢትዮጵያን እናልብሳት" (Let's cover Ethiopia with Green).
*Knowledge for Change*