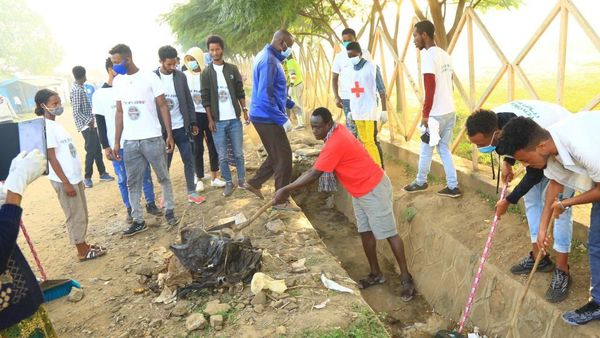 የጂንካ ዩኒቨርሲቲ አመራሮችና የተማሪዎች ህብረት አባላት በጂንካ ከተማ የፅዳት ዘመቻ ፕሮግራም ላይ ተሳተፉ።
********ነሀሴ 1/2013******
         በቀይ መስቀል ማህበር ጂንካ ቅርንጫፍ ከበጎ ፈቃደኛ ማህበራት ጋር በመተባበር፣ የጂንካ ከተማ ሴቶች ህፃናትና ወጣቶች ፅ/ቤት፣ የሰላም ሚኒስቴር በጎ ፈቃደኞችና ሌሎች የከተማ አስተዳደሩ መስሪያ ቤቶች ሰራተኞች የተሳተፉበት ከተማ አቀፍ የፅዳት ዘመቻ ነው የተካሄደው።
በዚህ ፕሮግራም የጂንካ ዩኒቨርሲቲ ከፍተኛ አመራሮችን ጨምሮ ዳይሬክተሮችና የተማሪዎች ህብረት አባላት ተሳታፊ ሆነዋል።
"ንፁህና ማራኪ አካባቢን ለመፍጠር ሁላችንም የፅዳት ጉዳይ ሊያሳስበን ይገባል" ያሉት የጂንካ ዩኒቨርሲቲ ፕሬዚዳንት ኩሴ ጉዲሼ(ፒ ኤች ዲ) እንደዚህ አይነት ስራዎች ቀጣይነት እንዲኖራቸውና ተጠናክረው መቀጠል እንዳለባቸው አሳስበዋል።
ዩኒቨርሲቲው የተለያዩ የማህበረሰብ አገልግሎት ስራዎች እየሰራ እንደሚገኝና የአካባቢ ጥበቃ ተግባራት ላይ ንቁ ተሳትፎ ከማድረግ አንፃርም በርካታ እንቅስቃሴዎችን እያደረገ እንደሆነ ይታወቃል። በዚህም ለአብነት ያህል ከመጥቀስ አንፃር የተራቆቱ ቦታዎችን በደን ለመሸፈን የሚደረጉ የችግኝ ተከላ ተግባራት፣ የአፈር መሸርሸርን ለመከላከል የሚሰሩ ስራዎችና ሌሎች መልካም እንቅስቃሴዎች ከብዙ በጥቂቱ የሚጠቀሱ ናቸው።
= = = = = = = = = = = = = = = = = = = = =
Jinka University community participate in the work of cleaning Jinka town.
*******August 7/2021*******
         The program has been prepared and held together with Jinka town adminstration of different work departments, Red cross association of jinka branch in collaboration with voluntary associations of the town and JKU.
Top management staffs, directors and student union members of JKU have been participated.
"We all are responsible for clean and suitable environment, and such activities should be continuous for the future" said Kusse Gudishe(PhD), president of JKU.
It is known that Jinka University is working different community service activities like works of environmental protection by planting seedlings, protecting soil from erosion and others.